Vandalise your books
Published on January 7 2018
Part of a series about books
---
I fold page corners when reading. My books are accordions of highlights, good quotes, things to follow up, and particularly articulate sections.
"If you fold my books, I'll hit you", my Grandma once told me. Or something to that effect.
But borrowed books don't get folded. Unless the lender has given permission, which has never happened. In this case I'll make notes on my phone, laptop or in a notebook. Or take a very light pencil and make very light annotations in the margins, to be collated and rubbed out before returning the book (only library books get this treatment).
"Stalin used to do that", Alex once told me, prompting a brief panic on whether our shared habit meant a shared propensity for megalomania.
But famous figures more worthy of respect and admiration do it too. A recent video by Will Smith shows him flicking through a copy of the Bhagavad Gita laced with neon yellow highlights, and it's a beautiful thing to see: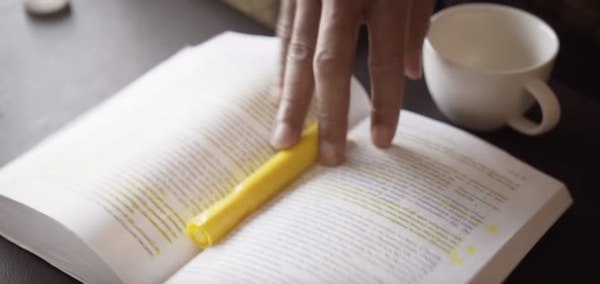 "When something looks hot, when an idea's hot, I star it up."
Debates rage online about whether this is acceptable practice. One reader boasted that they never open a book more than two inches while reading, so the spine remains permanently un-creased. Another in the same thread took pride in owning battered books with scuffed covers and folded and noted pages.
Obviously the latter is closest to my heart. Books are there to be interacted with. Not just read, but reread, pondered on, annotated, revisited. They are gateways to further knowledge and investigation, not standalone objects to be kept sterile with no trace of ever having being read.
What say you? Am I a heathen?
---